Its amazing that we can drive 40 minutes east and be in the mountains. I love that. We took advantage of that fact this weekend and headed to the Mt. Baker-Snoqualmie Forest for some camping and hiking. We stayed at the Middle Fork campground, which was excellent (as long as you don't mind lots of kids - all properly wrangled by parents, but very loud). This was Figaro's first camping trip. He had a blast hanging outside with his parents for 2 days.

Saturday, we hiked 5 miles up the Taylor River trail to Otter Falls. The majority of the hike is along the river, so even though the day was hot, the breeze was cool. We had to scramble over several blow-outs and through a couple of wash-outs along the way, but it was a very nice hike. At about 3 miles, we came across a lovely wooden bridge crossing a small cascade. We all took a break to cool off.




About a mile and a half after that, we turned off the trail at a spot marked by cairns (damn, I meant to take a picture of that), scrambled about half a mile up a hill, over and under fallen trees and boulders, then down the other side through scratchy brush about 7 feet tall. Then we were visually assaulted by the beauty of Otter Falls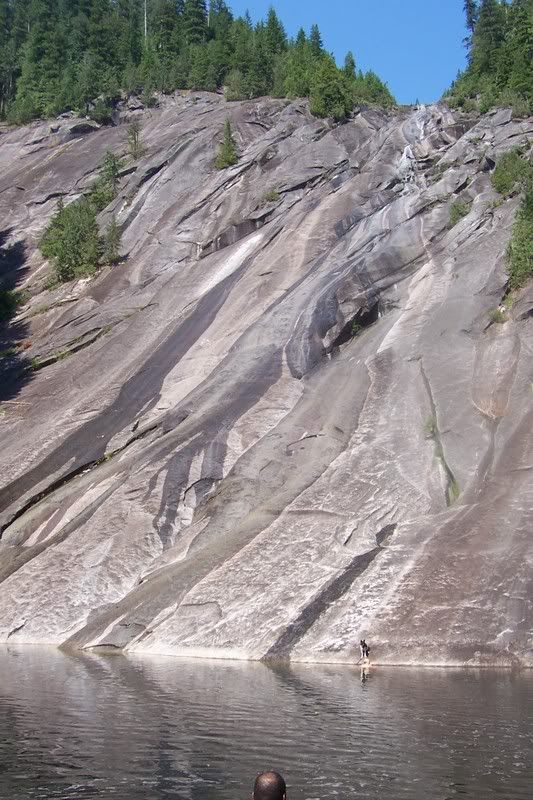 It's dry season, so the falls were really only a trickle. But enough for people to use them as water slides into Lipsy Lake (what fun!) Figaro swam around with his dad, while I waded thigh deep to take pictures.




We had snacks, then headed back. Figaro's joints were so sore by the time we got back to camp, he climbed in the back of the truck and stayed there til near nightfall - sleeping and watching us hang out at camp.




Early Sunday morning, we were lucky enough to get a beautiful electrical storm off to the west. What a sight with the mountains in the foreground. Another good northwestern weekend!